In 'What to wear to a special event part 1' we asked, "What sort of special event is it?" and if you've received a 'proper invitation' then we've already discussed exactly what to wear. But what if you haven't received such an informative missive? What do you wear when you haven't been given even the slightest clue by the hosts?
How the Vicar of Dibley could save the day
The first thing to do is stop panicking and remember to breathe!
No-one is going to die if you turn up in your pyjamas.
After all, the Vicar of Dibley looked utterly gorgeous in her jimmy-jams at her own wedding.
If the invitation doesn't specify that the event is formal then here are some ideas to help you decide.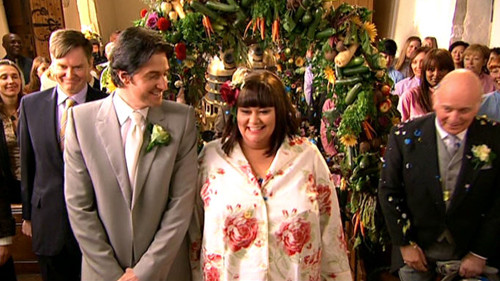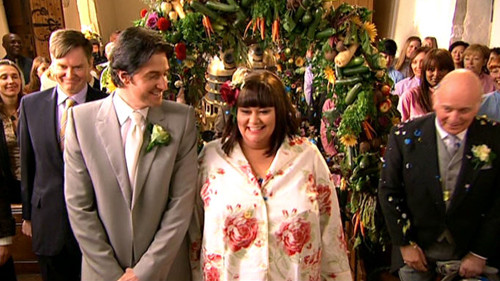 Daytime event
A softly-coloured suit or soft-print dress will take you to virtually any special daytime event – a party at someone's home, weddings and christenings, a restaurant, a posh hotel, and even a less-than-posh venue…
Suggestions for a softly-coloured suit for each of the seasons:
Spring – ivory, camel, stone, taupe, soft peach, cornflower blue, navy
Summer – soft white, dove grey, lavender, pastel blue, navy
Autumn – cream, olive green, khaki, apricot, soft teal, navy
Winter – white, stone, ice pink, ice blue, ice violet, navy
Depending on your style personality, you might look better in block colours or prints. If you don't know your style personality, then just stick to your season for now. Here are some suggestions for a soft print for each of the seasons:
Spring – polka dots or stripes will match your vivacious personality
Summer – small designs or florals are a classic, elegant choice
Autumn – larger florals or swirls of colour show how open and approachable you are
Winter – geometric shapes in a dark colour on a lighter background is the best print choice for a daytime event
In case you're wondering, my online Personal Style course will help you discover today which style personality and body shape you are, and my online Fabulous Colour Analysis course will show you both your tonal direction and your season.
Evening event
A little 'black' dress will take you almost anywhere for any evening event (after 6pm) but who says it has to be literally black in colour? No-one at all. LBD (little black dress) is nothing more than a generic term for the concept of having that one little dress (or outfit) in your wardrobe that you can safely pull out for every special event – going to the theatre, a business dinner or party, an evening wedding reception, dinner at a great restaurant, dinner at a less-than-great restaurant…
Alternative colour suggestions for a 'little black dress' for each of the seasons:
Spring – try chocolate brown, bright purple or clear navy
Summer – try charcoal grey, mulberry, or plum
Autumn – try deepest brown, aubergine or forest green
Winter – black is good, or try violet, cherry red or burgundy for a change
In 'What to wear part 3' we're going to look at how to dress for your personality type.
Can you help? There are so many ladies are out there having this exact same problem, how to dress for a special event, and you could do something about it
You could help women dress for a special event or any occasion and look absolutely fabulous
You could help ladies feel more confident
Imagine how that would feel. Helping others to look and feel confident and fabulous.
I'll tell you how it feels. It feels ruddy fantastic!
Learn how with my Personal Style course.