A huge part of being a leader of a nation, a company or a movement, is dressing the part.
The role of leader is instantly attributed to people who look and act like leaders because what you wear tells other people how to treat you.
So, if you want to be treated like a leader, then dress like a leader!
Women leaders
I've lost count of the number of times I've been asked recently about how Theresa May should dress as the new UK Prime Minister. One lady posted this photo, commenting, "This is a good look… fashion with authority."Another disagreed, "Dull, old-fashioned, not a professional, approachable leader," and went on to suggest that Mrs. May should wear a navy suit with a white blouse with a soft frill or ruffle down the front. She added, "In these times of discord, the public need to feel that they can connect with their leaders."
Each to their own, of course, but most of the women I have ever admired are leaders and all of them have always dressed and looked like leaders.
Why? Because what you wear tells other people how to treat you. (and I'll keep repeating this one until the day I drop…)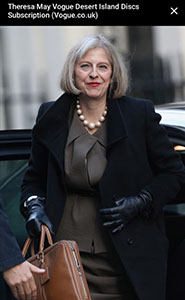 Dress like a leader and you'll be treated like a leader
We're talking here about power dressing and if you don't like the term, feel free to come up with something else. I'm happy to use it because it describes beautifully what it does.
Dressing with power demonstrates that you are powerful
A soft frill does not demonstrate power at all
We want our national leaders to look powerful because that means they will be perceived as powerful by leaders of other countries.
You only have to look at Jeremy Corbyn, the Leader of the UK Opposition, to see how 'dressing to connect with the people' has reduced his standing as a leader. The media have had a field day reporting on his general scruffiness but it's not just his choice of less-than-powerful clothes that has lowered his prestige as a leader.
It's also his behaviour.
First of all, he refused to sing the National Anthem at a memorial service at St. Paul's Cathedral to honour those who gave their lives for their country in the Battle of Britain.  The media branded him 'disrepectful and disloyal' and then watched his every move like a hawk.
So fancy allowing himself to be recorded on national television standing with his hands in his pockets while singing the National Anthem, and in St. Paul's again too!
He may have worn a suit and tie on this occasion but the total lack of respect he showed his country made the potential of the suit irrelevant. He was hung out to dry again, this time by a worldwide media, and I doubt he'll ever live it down.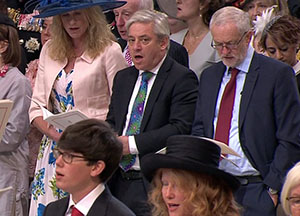 You may dress like a leader but you have to follow through and behave like a leader too
For crying out gently, could you possibly imagine this man having his photo taken with the other G8 leaders? One wag ventured that Corbyn would most likely be mistaken for a photographer's assistant who had accidently wandered into shot!
To lead or not to lead? There is no question!
The best example of someone who absolutely embodied power dressing is one of my absolute heroines, Elizabeth the First.
In 1558 she inherited an England which was virtually bankrupt, torn apart internally by religious discord and economic recession, and totally disrespected by the rest of Europe.
When Elizabeth died 45 years later, England was one of the most respected, powerful and culturally-rich countries in the world.
She is considered by many to be the greatest monarch in English history and clearly had a massive impact as a leader. And she didn't do that by dressing in an approachable manner so that all and sundry could assume they could drop by for a cup of tea or a goblet of mead when they felt like it!
Incredibly wise beyond her 25 years at her accession, Elizabeth understood that what people need, especially in times of discord, is an instantly-recognisable national leader; someone who actually looks powerful enough to be respected by other national leaders.Even though the royal coffers were bare, she ordered the most sumptuous fabrics and jewels to create outfits that would instantly demonstrate her rank of national leadership and power. She was determined to show all the other countries that England was not down and out.
She also understood the power of specific colours and wore a purple velvet gown to her coronation feast.
The privilege of wearing purple was reserved for the very highest echelons of society – only bishops and those of royal birth
In fact, if anyone else was caught wearing purple, they could be fined an entire year's wages!
How Elizabeth presented herself every day and what she wore demonstrated, "Don't mess with me!" which translates into "Don't mess with England!"
She declared to Parliament that she considered herself married to England and in every nuance of her life, from how and where she slept and ate to what she wore, she demonstated her status and represented her country at all times.
Elizabeth and Engand became synonymous. How she presented herself told everyone – other nations and her own people – how to speak about and behave towards England.
One woman's understanding of the power of personal presentation and of what you wear changed the course of England's standing in the eyes of the world.
Elizabeth understood that human beings instantly recognise the difference between a leader and a non-leader, simply by what they wear and how they behave.
This is why a man in a good suit and tie will always be perceived as though he knows what he's doing (even if he actually doesn't)
This is why we advise our male and female clients to dress 'up' and smartly for interviews
This is why a defence counsel will always dress their client as smartly as possible to impress the jury, even if they're as guilty as sin!
God preserve us from politicians who aspire to take up a position of national leadership without understanding exactly what that entails.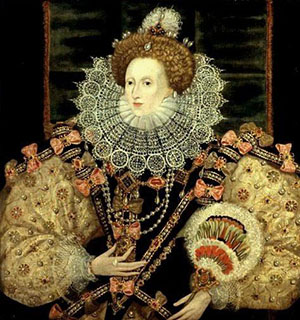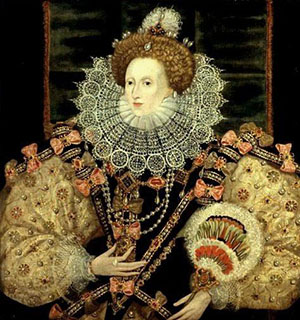 What you wear tells other people how to treat you
It's not just national leaders that need to dress the part. The same goes for you and me, in our chosen fields.
If you want others to see you as a leader, then dress like a leader
If you would like others to take you more seriously, then dress more seriously
A good image consultant can show the most un-confident person on the planet how to dress to:
nail that job interview
speak from the stage
impress the opposite sex
receive better treatment and more respect wherever you go
I've got the power!
That's the power of what colour and style can do, and it's utterly life changing.
I know, because it happened to me! Colour and style totally saved my life!
You can have the power too!
So either find a good image consultant or learn the concepts of colour and style for yourself. Then you can earn extra money, or even ditch the day job, and have an absolute ball showing others how to do the same!
Image consultants – changing lives for the better, one client at a time!