It's a huge confidence boost, wearing beautiful clothes makes you walk tall…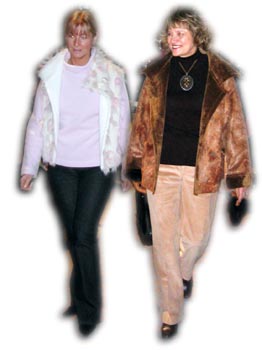 Wearing beautiful clothes and accessories is a massive incentive to look good. Just the feeling of fine fabrics and stunning design gives you confidence and it certainly makes you push your shoulders back and walk tall. Then all your internal organs breathe a sigh of relief as they suddenly have room to expand and start working properly. You start to feel really good and naturally you look even better.
Just look at all these lovely ladies (I was there, too!) who volunteered to model in a fashion show for Cancer Research UK – not one of them slouched her way along the catwalk! We each felt uplifted by the quality and feel of clothes themselves, and we all looked fabulous because we were all wearing the best colours for our skin tone.
I was kindly 'volunteered' as a model and I just couldn't wait. Sashaying down a catwalk is just up my street and when you can help out a friend and a worthy charity all at the same time, well – what could be a better way to start the week?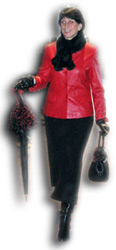 Monday morning loomed bright and early, and I loaded the car with full-length mirror, shoes, extra tights (because Murphy's Law says that you will always put your finger through the pair you have on when it matters the most), the ubiquitous clothes brush, and my trusty make-up kit, and set off through the beautiful lanes of Derbyshire to Hassop Hall Hotel near Bakewell.
Hassop Hall is mentioned in the Domesday Book and, during its 900 year history, its owners have certainly had their ups and downs – they sold off a female heiress for 50 Marks to King Richard II, suffered persecution for their religious beliefs during Elizabethan times, and had to buy back the entire property from the Roundheads after the Civil War in the mid 1600s!
Four hundred years later the Hall provided the perfect backdrop for an upmarket fashion show and lunch in aid of the local Bakewell Cancer Research UK supporters group and lots of ladies were looking forward to seeing the eight of us strut our stuff. And just look at the fabulous coats, hats and accessories that we were being asked to wear!
Instant confidence booster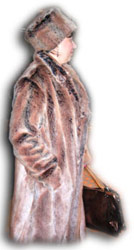 A long, flowing coat that swishes as you walk is a great confidence booster – I've been using them for dramatic effect at interviews during most of my working life, and I never failed to secure the job or commission, whether I wanted it or not!
If you're a Classic, you will probably be tempted to button up – but try wearing a full-length coat open and letting the fabric swirl around you as you walk.
It certainly changes the way people perceive you; I find that men open doors for me and I can't tell you how good that makes me feel. This may be a tradition on the wane, but I'm darned if I'm going to give up and let it go without a fight.
You can still mesmerise the little darlings by the sheer size of the image you are creating:
oodles of confidence from knowing that you look fantastic
the volume of material being swished about in front of them
plus being dazzled by your fabulous smile will all do the trick
just think to yourself Rita Hayworth/Gilda, Sophia Loren, Ava Gardner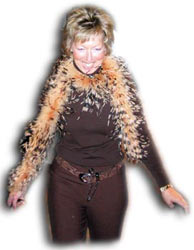 Just remember that you are a gorgeous, adorable woman and smile!
Presenting the clothes
We each had six outfits to show and had a quick lesson in how to walk in pairs down the catwalk from Sue, who was an old hand at organising and encouraging aspiring models. We were supposed to stop in the middle, turn to each other, and then separate with one walking back up the aisle and the other moving to the bottom, but quite how you're supposed to remember that when you're waving and smiling to the audience and generally enjoying yourself, I'll never know.
My erstwhile catwalking partner, Alison, and I didn't follow the rules too closely but we smiled at the audience and I think everyone still managed to see and appreciate the beautiful clothes and accessories we were showing.
Presenting yourself
In everyday life, your clothes will help you to present yourself and your personality to an expectant world. When people meet you for the first time, they make judgements about you based on how you look. Why? Because until you open your mouth, they haven't got anything else to go on!
So make the best first impression that you possibly can. Use clothes that make you look good and you will feel even better. Your confidence will grow because you know you look marvellous and you will soon be walking tall without even realising it.
You learn something new every day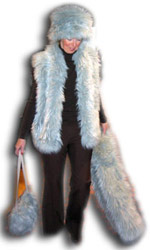 Four of my outfits had matching hats, three of which were like the one on the left. I had never tried these before and was incredibly pleased with the effect. I felt a bit like Doris Day in those wonderful movies from the 50s and early 60s where the wardrobe department used to pull out all the stops to make her look as glamorous as possible. And boy, did I feel glamorous? It was a fantastic feeling.
The fourth 'hat' was a most unusual concoction of comb, feathers and sparkling jewels and needed to be the primary focus of the outfit. This presented me with a problem as my hair is shoulder length and I never wear it up. "Why not?" you ask. Well, no-one has ever shown me how – until now. I am so grateful to the lovely lady, Viv, who took the time to show me how to twist my hair up and secure it so neatly. I have since been trying it out at home and feel that it actually suits me. Just goes to show that you're never too old to learn a new trick!
Know your colours
I've been going to Margaret's shop in Bakewell for several years as she really knows her stuff and remembers all her customers – what size they wear, which styles they like, and she also has an eye for which colours are best. For the fashion show, she picked out the right colours for all eight models – silver, grey, black, white and pink for those with cool skin tones, and gold, cream, tan, brown, and corals for those with warm skins. When you feel comfortable with the colours you are wearing, you visibly relax and your confidence grows.
Don't forget your rear end!
Other people see you from all angles so, before you leave the house, check your rear view in the mirror! Doesn't the rear view (on the right) just look utterly fabulous? Well, that was probably due to us having a dresser to make sure that we looked great from the front and the back.
You might not have an actual guardian angel to do this for you on a daily basis, so keep these in mind for yourself:
Check hemlines all round for hanging threads – this includes skirts, trousers, coats, cardigans, jackets
Remember to remove stickers from the soles of your shoes
Comb your hair at the back (what a ghastly sight it is to see a 'hole' in the middle of someone's hairdo where they've 'missed')
Clean the backs of the heels of your shoes
Make sure your collar is either turned up or down – all the way round
If your coat/jacket has a belt, turn it the right way round – all the way round – and hook it into belt loops (where appropriate)
Total confidence
Most of the models were a little nervous to begin with but, as we got into our stride, you could see the confidence of each lady growing. We pushed our shoulders back, pulled our tummies in, stood proud and tall, and walked with a new-found elegance down the catwalk. The audience loved it and everyone came back into the changing room with a smile on their face as they knew they had done the clothes justice.
A fashion show is only an extreme of what we all do every day – wear clothes and present ourselves to the world. The staged environment of a fashion show just gives us licence to shimmy and shine instead of scurrying along with our noses buried in our chins.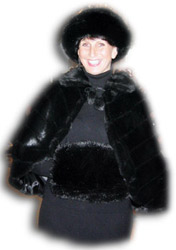 As far as we know, we're only here once so let's make the most of the time we have. Stick your nose in the air, smile broadly and flaunt what you've got. Add beautiful clothes into the equation and your confidence will soar. You deserve only the best anyway; what have you got to lose?
PS. Over GBP 1,200.00 was raised for Cancer Research and several ladies who had never modelled before in their lives have suddenly acquired a new confidence in themselves. We all had a marvellous time, wearing gorgeous clothes and accessories, feeling fabulous, looking absolutely wonderful and walking tall!