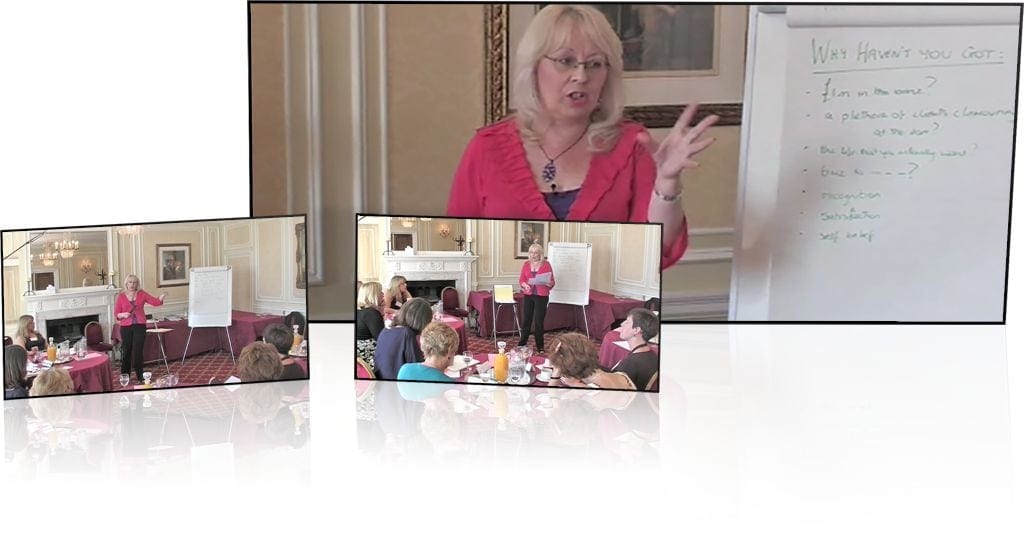 Mindset Motivation Marketing Course
The 3 Steps to Success for Image Consultants
The training program that takes you from where you are right now, wherever that may be, and shows you how to make the changes required to attract more clients, more sales and more profit and to confidently create the personal and business results you want from and for your life.
Where are you right now?
You've done your colour analysis and personal style training, invested in drapes, swatch wallets and heaven knows what else, done a bit more training, built a website, tried to promote yourself… but you just aren't getting consistent clients and you're certainly not making the income you deserve.
Will this course show you how to find more clients and make more money?
Absolutely! But before you go diving into that part of the course, can I suggest a time out?
If I was your private coach and we were meeting for the first time, the very first thing I would check is that you're actually in the right profession!
Are you in the right profession?
You may well have learned colour & style skills, and you might have a plethora of things already in place to support making a living as an image consultant
you have hundreds of drapes
a drawer full of swatch wallets and
you've just had a box-full of business cards printed
But what if that isn't what you're here to do?
Some of the exercises in this program will make you take a long hard look at who you really are.
If you discover along the way that you were never cut out to run an image consultancy and your real purpose on the planet is to train to be an opera singer, then that will be a brilliant result.
Some of the image consultants on the live training day actually changed their career after taking this program.
One lady went on to create training programs about how to make jewellery, fascinators, and other 'crafty' ideas. She added unique colour and style advice to her courses.
Another lady discovered that she was really put on this planet to write beautiful poetry.
One lady who had trained in colour came to realise that she really didn't want to become a full-time image consultant, preferring to incorporate her colour knowledge into a beauty therapy business.
Others who have since taken this course have also discovered that being the archetypal image consultant wasn't exactly what rang their bell. Some use their colour and style skills in their new profession. Some don't.
But they have all discovered what they're on the planet to do.
Let's find out:
what you've been put here for
what you're really good at
how you can help other people
so that you're creating the income you need to live a satisfying life.
This course is all about you – what motivates you, how you feel, what you really want to do – and how to create a successful business that uses your best talents and skills.
Discover how to:
take your business further, or change direction
get your message out to find more customers
make more sales to produce the rewards and income that you know you deserve
That's why this is the 'Mindset, Motivation and Marketing Course', the 3 steps to success for image consultants.
Steps 1 & 2 Mindset and Motivation
This is about your thinking, what motivates you, how you feel, and what you really want to do.
Step 3 Marketing
Only then can we look at the strategy and tactics required to set that all in motion, to create the business and lifestyle of your dreams.
Course insight
What is this all about?
What are the issues you have?
The truly important issues
The crux of the problem
Trading hours for pounds
Why haven't you got…?
You need a plan
Create new habits
Setting real goals
Set your own goal
A business plan
Establish your expert status
Establish your niche
Be specific
Your perfect client
Get paid for who you are
An example target market
Turn potentials into customers
Get more clients
Another example target market
Follow up
Raise your prices
An example business plan
By the end of the Mindset Motivation Marketing course you will know who you are, what you're doing here, and what your next step is. You will know exactly what you need to do to achieve the results you want for your life and business!
Course insight
a) Around six hours of video of a live training course
b) A plethora of online documents to download
Getting started course notes
Mindset Motivation Marketing course notes
Defining your niche exercises
Finding your perfect niche exercises
'Taking Inventory' notes
Attitude
The business secret
The common denominator of success
The importance of follow-up
How to reward customers so they keep coming back
How to get more referrals
­
I gain so much from what I bought from you. You are so nice to tell us the secret of doing image business. One of the things I was thinking is that as I am doing business in China, it might involve the local culture of doing business. I am going to try what you sugguest and will let you know outcome if you are interested. I didn't really get many 1-1 consultation enquiries through the year so I found what I learned from your course really helpful. BZ, Hong Kong
Course author Kim Bolsover – Winner of the 'Most Inspirational Consultant Running An Image-Related Business' International Federation of Image Consultants Spirit of Inspiration Awards
­
Click below for instant access
­ In-depth professional Mindset Motivation & Marketing training
­ Course training manual – ready to download & print
­ Ready-to-download & print client handouts and resources
­ Training certification
­ Instant online access from your desktop, laptop, tablet or smartphone
­ Lifetime access with automatic free course updates
­ Exclusive private membership of global community of image professionals for 24hr access to help, advice and support
­ This course doesn't include personal coaching with the course author Kim Bolsover. If you would like personal coaching with Kim, consider the Ultimate Business Program
The Investment
£397
OR
8 equal monthly payments of £57
VAT is applicable to EU (European Union) purchases


­