The Complete Colour & Style Course v2.0
All the colour analysis and personal style core skills an image consultant needs in one complete course
The complete colour analysis and personal style online training course for image consultants. Become a confident, successful image consultant with my complete colour analysis and personal style training course and learn all the core skills an image consultant could possibly need.


Introducing the Complete Colour & Style Course v2.0 designed for both new and experienced image consultants with all the colour and style training you could possibly need. With over 35 years' experience in the personal image business, my knowledge is online, at your finger tips!
You'll receive 5 colour & style training courses, 1 personal and business development course, internationally-recognised certification, and membership of an exclusive online community of global image consultants.
So don't waste your time and hard-earned money on out-of-date training that leaves your bank account empty, your head full of unanswered questions, and no clue what to do next. You get it all with the Complete Colour & Style Training Course v2.0!


Certification
Internationally-recognised certification included
I spent a fabulous hour on the phone recently with a lovely lady. We had already completed one certification call for the first of the four courses and although the next call was supposed to be for her Personal Style certification, I don't think we mentioned style or the course content once! We were busy working through all the brilliant ideas she had for workshops and how to present them!
When you log into your account for the Complete Colour & Style Course v2.0 you'll see how to book a certification call.
The Complete Colour & Style Course v2.0
The training package includes:
In-depth professional training for image consultants, colour consultants and personal stylists
6 live training courses filmed over 8 days to watch and re-watch whenever and wherever you need them
Ready-to-download and print training manuals and client handouts
Lifetime course access from your desktop, laptop, tablet or smartphone
Automatic free course updates
Private group membership – connect with image consultants around the world for 24/7 help and support
Training certification on successful course completion
Literally hundreds of extra online training materials and resources
More about the 6 training courses
included in the Complete Colour & Style Course v2.0
­
#1 Colour Analysis Training in a Box Seasonal & Tonal System
contains 3 individual courses:
Colour Analysis Training in a Box – colour analysis, colour psychology, and how to run 1-1 personal consultations and group workshops
The Tonal System – convert a tonal diagnosis to seasonal, and vice versa
The Tonal Taster – how to present my secret marketing method to create bookings for all your services
Here are a few clips from the Colour Analysis Training in a Box course. There are about 20 minutes so grab a cup of tea, sit back and click play…
On this course you will learn:
Both seasonal and tonal colour analysis
The choice to work with the 4 seasons, 6 tones, 12 seasons, and all the other permutations!
Works with any skin type or colour, in any country
Works with any drapes and colour swatches
Written and presented by a recognised, award-winning professional who has run her own successful image consultancy for well over 35+ years
Teaches you how to get your image consultancy up and running and how to get your first clients
Shows you how to expand your existing image consultancy
Includes comprehensive support so you have someone to turn to with your questions both during and after you've completed your course
­
#2
The Tonal System Course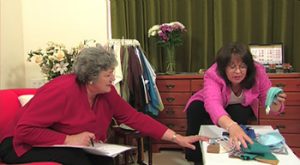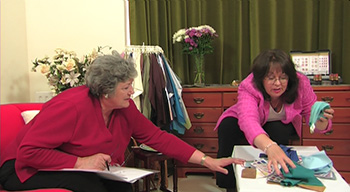 The 4 seasons colour theory just doesn't work for everyone. The tonal system fills in the gaps and provides seasonal and tonal alternatives for all your clients.
­
­
#3
The Tonal Taster Course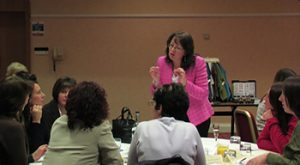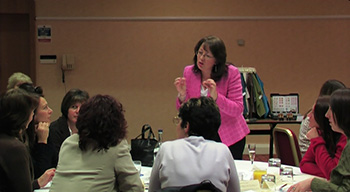 The 'Tonal Taster' script used in this presentation is my secret marketing method. If I had to start again tomorrow with no list of previous clients, I would use the 'Tonal Taster' to kick-start my business.
­
­
#4 Personal Style Training Course
A franchise-free personal style training course for both beginners and experienced image consultants.
If you're looking for a franchise-free up-to-date shape, scale and style personality training course this is for you. Learn at your own pace:
5 different ways to diagnose your clients' style personality
how to diagnose your client's body shape without needing to measure or touch her
how to advise ladies of all ages about which styles, shapes and lengths will make them look their most fabulous
how to assess and solve figure problems
tried-and-tested marketing techniques that work
how to get your first style clients and how to keep them coming back
­
#5 Personal Shopping & Wardrobe Training Course
A franchise-free personal shopping and wardrobe planning training course for both beginners and experienced image consultants.
Too many image consultants try out a wardrobe weed-out or personal shopping trip once, find it a hideously stressful experience and vow never to do it again! This training course solves all those problems; it's totally different from all the others out there:
Learn how to take the stress out of personal shopping and wardrobe planning
Put together a step-by-step plan to help your client manage her wardrobe
Create a step-by-step plan for your personal shopping trips too
You will build your own confidence, and learn how to create new, fun and extremely profitable personal shopping and wardrobe planning services
­
#6 Mindset Motivation & Marketing Training Course
A franchise-free mindset and motivation training course for both beginners and experienced image consultants.
There is absolutely nothing like this for image consultants available anywhere else!
Mindset, Motivation and Marketing training shows you how to make the changes required to attract more clients, more sales and more profit and to confidently create the personal and business results you want
COLOUR SUPPLIES
Add Drapes & Swatches to your Training Package
I recommend the Improvability Colour Analysis Starter Kit which includes all the colour supplies I use in the Colour Analysis training course:
Seasonal drapes set
60 drapes: 8x Red, 4x Yellow, 6x Blue, 4x Purple, 4x Green, 10x Blue/Green, 8x Pink, 4x lightest neutrals, 12x darkest neutrals
ANTIQUE Drape Pack
2 drapes: 1x Antique Silver, 1x Antique Gold
ARMANI Drape Pack
4 drapes: 1x Medium Bronze, 1x Moss Green, 1x Green Grey, 1x Rose Brown. You only need these 66 drapes to get started and I show you exactly how to use them. All our drapes carry a label showing both seasonal and tonal directions.
You only need the 66 drapes above to get started and I show you exactly how to use them. All our drapes carry a label showing both seasonal and tonal directions.
Ladies' seasonal fabric fan set (4 fans),
1 of each season – Spring, Summer, Autumn and Winter. Get started with the best seasonal fabric fans in the business. I've been using them myself for 35+ years so they must be good!
Ladies' safe tone fabric fan set (6 fans),
1 of each tone – Bright, Warm, Muted, Cool, Dark and Light. Not everyone could possibly fit into the 4 seasons. Using these 6 safe tonal fans, you will learn how to incorporate tonal analysis into your consultations and workshops, and expand the colour possibilities for each individual client!
Cover-up cape for draping.
Use the cover-up cape to cover over what your client is wearing so that you're not distracted by the colours she arrived in.
Professional Artist's Colour Wheel
With the colour wheel, you'll be able to explain the concepts of colour analysis in clear, everyday language and impress your clients with your professionalism and expert knowledge.
Further colour supplies are available whenever you need them from our online trade colour supplies catalogue, and there's no minimum order, so you can order one swatch wallet at a time if you want, and we ship to almost anywhere in the world.
Improvability Colour Analysis Starter Kit (recommended)
Additional GBP 350 + Shipping
Absolutely everything you need to get started, as used by Kim on the Colour Analysis Training in a Box course:

1x 60x standard seasonal drape set
1x each 4 ladies seasonal fans
1x each 6 ladies safe tonal fans
1x Antique drape pack
1x Armani drape pack
1x cover-up cape
1x hand-held colour wheel
Have everything you need in front of you whilst you train.
Order colour supplies kit here
Colour supplies are shipped directly from our UK suppliers by sign-for courier service. Colour supplies are NOT eligible for payment plans.
Love this course Kim. I can watch on my iPad anywhere. Also I like the interaction in the group of ladies. I found this course answered a lot of my questions so many thanks for that. Found it amusing too!
Thanks Kim! I'm thrilled to get started on this venture. Thank you for providing such thorough training materials. I feel much more confident about color analysis now after finishing your course!
Hi Kim, I recently purchased your online course Fabulous Colour Analysis and have learned so much after just the first day. Your no-nonsense attitude and sincere support are not only encouraging, but also inspiring. Now, I'd like to purchase some colour supplies.


The Complete Colour & Style Course v2.0
Value Breakdown
| | |
| --- | --- |
| Contents | Value (GBP) |
| Colour Analysis Training in a Box Seasonal & Tonal System | 997.00 |
| Colour Analysis Training in a Box | Included |
| The Tonal System | Included |
| The Tonal Taster | Included |
| Fabulous Personal Style Course | 697.00 |
| Fabulous Personal Shopping Course | 397.00 |
| Fabulous Mindset & Motivation Course | 397.00 |
| Internationally-recognised Certification | Included |
| Exclusive private group for 24/7 help & support | Priceless |
| Total value | £2488.00 |
The Investment
Total Value £2488
You Save £498
1-Pay £1990
OR
8 equal monthly payments of £286
VAT is applicable to EU (European Union) purchases