We're going to complete the 5-part 'what to wear to a special event' adventure by finding out how to create a wardrobe of clothes that work for every occasion…
In 'What to wear to a special event part 1' we asked, "What sort of special event is it?" and if you've received a 'proper invitation' then we've already discussed exactly what to wear. In Part 2 we looked at the colours to wear if you haven't received such an informative missive. In Part 3 we looked at how to dress for your personality type. In Part 4 we discussed Step 1 – how your current wardrobe could potentially yield hidden treasure.
Now we're going to complete this 5-part adventure
How to have a wardrobe that works for every occasion
You now have three piles of clothes from Step 1 of weeding out your wardrobe. So let's complete the entire process with Step 2, what to do with the pile for removal, how to decide what to finally keep and how to make the most of what's left.
Your end goal?
To end up with a wardrobe
full of clothes that complement every aspect of you – your colouring, your body shape, your style personality
that makes you look and feel utterly fabulous
that works for every occasion
Step 2: Weed-out Your Own Wardrobe
Let's start with…
a. Items for repair/cleaning
Get these items cleaned and/or repaired before you begin mixing and matching or you'll only have to repeat some of the process below when they are!
b. Try everything on
Start with your favourite blouse, top or jumper. Look at yourself in the mirror and decide why it is your favourite. Does it make you look wonderful? If so, then more than likely it will be in the correct colour palette for your skin tone.
So, now you are looking for trousers, skirts, jackets, etc. that tone with or complement this one blouse.
Try on every skirt you have with this blouse
And while you're there, try on all your jackets and cardigans with this skirt and blouse
If you have trousers in your wardrobe, try every pair of trousers on with the same blouse
And don't forget to try all the jackets, too, with this same blouse and trousers combination
Then move on to your next most favourite blouse or jumper
Try on every skirt you have with this top and then try on all your jackets with this combination…
repeat with every blouse or top
Soon, you should be able to see how useful your existing wardrobe really is.
You will have a number of outfits in your wardrobe, not just a number of clothes.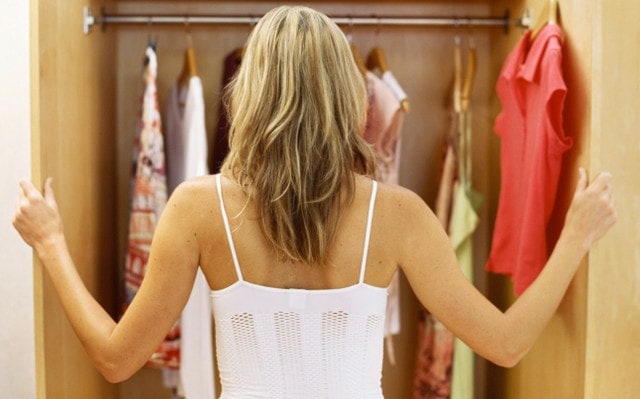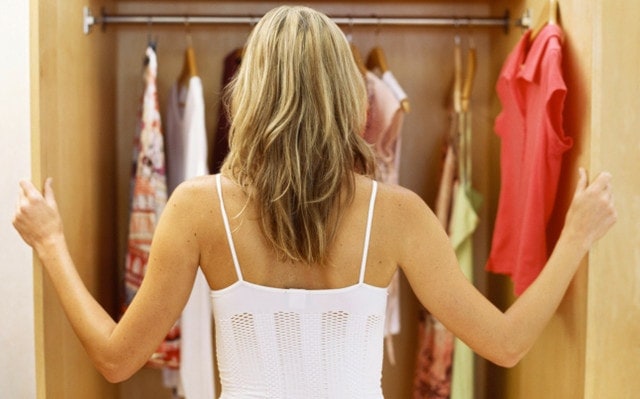 c. Some things just don't work?
On this second pass through your wardrobe, you may discover one or two items that really don't go with anything else anymore.
Maybe the colour just isn't right for you?
Perhaps the style doesn't lend itself to other items you really feel comfortable in?
You might have already discovered so many more outfits that work really well, that you just don't need this item anymore?
Whatever the reason, just add these to the removal pile.
d. Time for a treat
You can probably see now why I recommended a short break between parts 1 and 2. This is tough work and I expect you're pretty shattered by now. This is the time to indulge and treat yourself, you deserve it.
e. Items for removal
Now, you can turn your attention to the items that you originally put away for removal
If you really have the energy and want to see if there is anything that could still be salvaged, this is your last chance to go through them
If not, it's worth sorting them into anything that could be useful to your local charity shop or a friend or relation. Please make sure these things are clean before you pass them on
All the rest should be removed from your home completely; most towns have clothes recycling bins and many charity shops can now earn money from your bag of rags – make sure you mark these clearly to keep them separate from those that can be sold to the public
f. A wardrobe that works
You now have a wardrobe containing clothes that you know you are going to wear
You know what looks good with what
You've learnt to mix and match what you already have
You will make so much more use out of the items you have
g. Treat yourself – again!
Just the mere thought of all this work exhausts me so if you've actually carried out all the physical work required to sort out your wardrobe, then award yourself a gold star. Treat yourself to a box of big fat chocolates (or whatever makes you happy).
And give yourself a resounding slap on the back.
Well done!
Now read Part 6 – How many outfits?