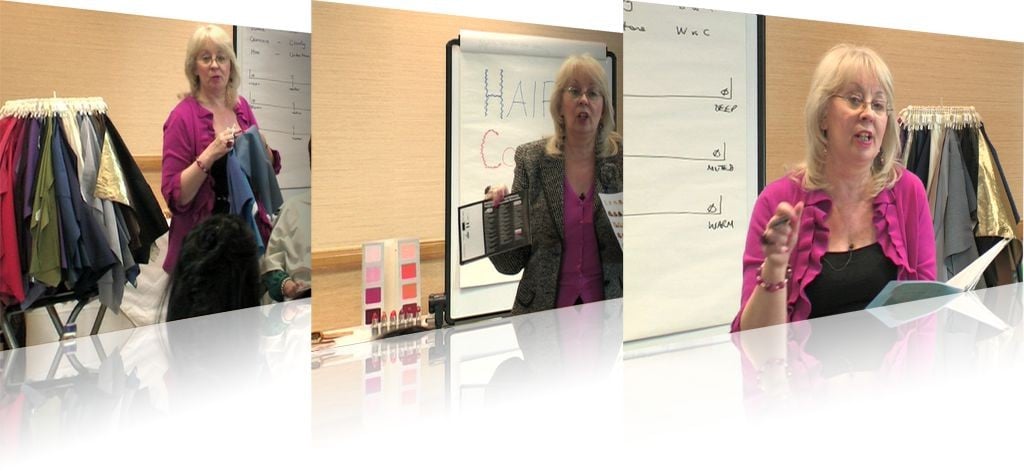 Image consultant training courses
with award winning course author Kim Bolsover
You want to become an image consultant or personal stylist. You have a deep desire to help others change how they look and feel about themselves, and put the client first and this is the perfect time and place for you to become an image consultant or to take your existing image business to a whole new level of success. My training courses are designed specifically for image consultants and personal stylists and show you how to:
learn the core skills of colour analysis, personal style, wardrobe planning, personal shopping and more
find and work with new clients
earn a part-time or full-time income
create the personal and business results you want from and for your life
Every new level of success you achieve in your business means you're helping others, changing lives, giving back.
Do you want to learn via home-study at your own pace?
Are you looking for franchise-free training?
Do you need more knowledge, more motivation, and more support to kick-start your existing image business?
Would you like to do this on your own, or would you prefer 1-1 personal coaching while you're learning?
Choose training that suits you
Every course is suitable for new or experienced image consultants and personal stylists
Choose the Ultimate Image Consultant Training Program v2.0 which includes my personal 1-to-1 coaching, help and support
or choose a Course from the list below which includes private membership of a global community of image professionals with 24hr access to group help, advice and support
How you learn
These courses are recordings of real-life training which you can access instantly, online, from anywhere around the world with lifetime access from your desptop, laptop, tablet and smartphone. Plus you get a whole host of online resources, including training manuals, client handouts, the forms I use myself, and lots more, all of which can be downloaded to your own computer.
Life-time access to in-depth professional training
Assessment and certification with course author Kim Bolsover
When you've completed your training you can book a call with me from your online account and on the call I will assess your progress and readiness for certification as a qualified Improvability consultant.
The image world needs you and your passion
The world desperately needs more image consultants and personal stylists who put the client first. If that's you, then what are you waiting for? All it takes is a decision. And, you too can change your future, your life, and the lives of your clients who are just waiting for you to get on with it!
Thank you so much for the Ladies' Style course. Just like the Colour course last time, it was fantastic: Informative, interesting, fun and very thought provoking. I must admit I feel much clearer now as to how to approach my business, and how to get the information I am passionate about across to my customers in a style to suit them personally. I am now analysing everyone, and am constantly disappointed in how people are not making the most of themselves, there's definitely work to be done! Thanks again for a fabulous course. I will be in touch soon with more questions, I'm sure… I carried out another style workshop on Tuesday and the ladies absolutely loved it and in fact want me to do colour and shape with them too! It's exactly as you say… theatre! All great fun and lucrative too! YG, London, UK
Hello Kim, Thank you so much for your warm wishes. I remember now that I have access to all the course material online so I will download it all as soon as possible. I am absolutely loving the kit and planning to purchase more resources. Thank you for your support. Grishma, India
Thank you Kim for what you did for me! I had that small issue with my first order and you fixed it right away. Your personality as a caring person (on video) matches who you are as a person. I was surprised to hear directly from you which changed my perception of your business from satisfied to 'impressed'. The way you conduct yourself as a business woman [with integrity, honoring your guarantee] is a great example for all of us. Again, I appreciate what you did for me and I will be ordering from you again. Thanks again. Hilary Gronas, Georgia, USA
Some of the Most Popular Training Courses…