I had an absolute blast filming the Colour Analysis Explained event.
Isn't colour absolutely wonderful, glorious, fabulous, delectable, delicious and de-lovely!
I had a fantastic 3 days and so did the lovely ladies who managed to get to Sheffield here in the UK through the snow and ice. The ladies were all wonderful, glamorous and gorgeous personalities too. Just look at the photo! Everyone got on like a house on fire, we had lots of laughs, learned loads about colour, and it took me two full days to come down from the clouds… so much so that I woke up on the Monday morning after the filming had finished and was severely disappointed not to be going in for a fourth day!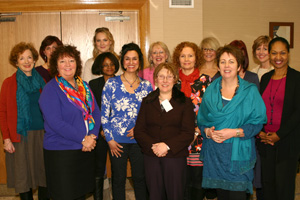 Thanking everyone involved in the filming
So this is a very public thank you to all those lovely ladies who were just as enthusiastic as me about colour in all its forms.
I had wanted to teach this stuff for so long, so a big thank you to all the ladies for your support. I loved your company, your questions, your input, everything! A big thank you must also go out to the technical team for all their hard work in post production. You know who you are!
We originally published the 3 days of training on DVD and now there's online access here on improvability.tv so there's no need to miss out no matter where you are in the world. All you need is an internet connection and a device capable of playing video, like an iPad or a laptop. Plus I have created loads and loads of extra print-ready online course notes that accompany the video content too.